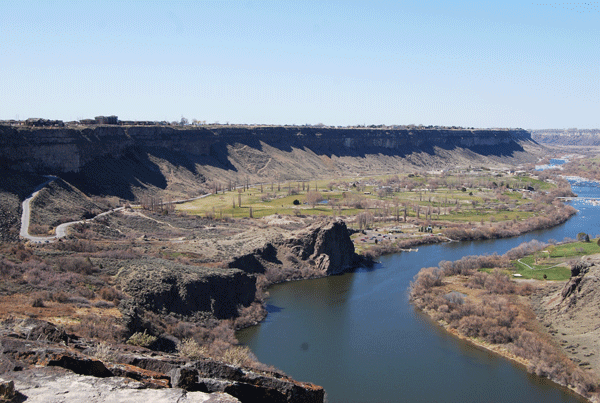 New Member Brenda Felton is the Donor Relations/Development Officer for the Idaho
ommunity Foundation. Brenda recently answered the Twin Falls Rotary Club's ten questions. Welcome to Rotary Brenda!
TFRC: What does Rotary mean to you? Why did you choose to join?
Brenda: I joined Rotary initially to meet people in our community who are making a difference. I was also encouraged to join Rotary from our Boise ICF office to put a face with the new position that was created in Twin Falls. What our group does in the community has far exceeded my expectations.
TFRC: What is the one indulgence you can't give up?Brenda: Dark Chocolate with a toffee crust. Yum!!
TFRC: You live in Buhl. What's your favorite thing to do in Buhl?
Brenda: I love spending time on the golf course in the summer. My youngest son has played on the Buhl HS golf team for the past four years, and I love what the game has taught him. A golf course is a great way to learn respect for
people, a lifetime sport, and etiquette.
TFRC: What do you enjoy most about Rotary meetings?
Brenda: I really enjoy hearing about the students in our community who come as guests during the school year.

TFRC: What one thing would you tell the world if you were in charge?
Brenda: Be nice to each other and follow the rules of kindergarten.

TFRC: Family. Tell us about them.
Brenda:My husband, Mike and I have been married for 22 years and live in Buhl. We have two sons. Keegan attends the University of Idaho and Cooper will be attending the College of Idaho this fall and will be playing on their college golf team. Mike and I will be empty nesters this fall and I think we will do just fine. We enjoy downhill skiing in the winter and hanging out on the river in the summer.
TFRC: We heard that you bought purple tomato plants at Moss Greenhouse. Are you optimistic about growing them?
Brenda: I have high hopes for those purple tomatoes. I bought four plants so I am hoping that the odds of fruit are in my favor.

TFRC: Who would play you in the movie based on your life?
Brenda: I will have to get back to you on that. I don't know that I have a movie worthy life to act out.

TFRC: Do you really sing the songs at the Rotary meeting or just lip-sync?
Brenda: I sing all the words that I know. I love having our group sing songs to start the meeting.

TFRC: Do you think Danny Morena is funny?
Brenda: I think Danny is multi-talented. He is a most amazing individual and we are all blessed to have him participate
in our weekly meetings whether he is leading a song or making us laugh. He is a very special person and we are all lucky to be able to enjoy his character.
10 Questions Members
Answer