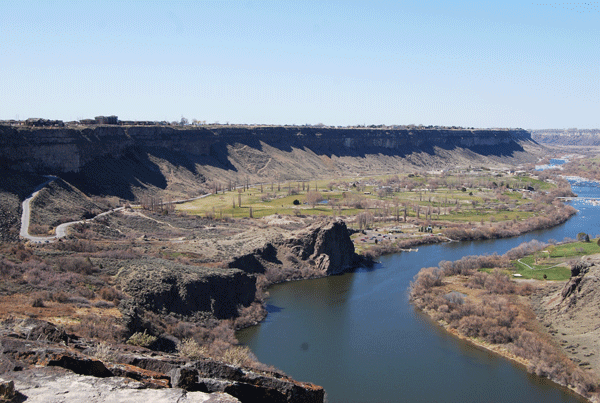 4-29-15
Twin Falls Rotary Club asked new member Lindsey Westburg, Executive Director of the Boys & Girls Club of Magic Valley, ten questions. Welcome to Rotary Lindsey!
by Nancy Taylor
TFRC: Why did you join Rotary (aside from the cuisine at the Turf Club)?
Lindsey:When asked to consider joining Rotary, I was able to do more research (as I had a general knowledge of what the Club was about) on what the Rotary Club is and does. As I read the website, I thought it would be a great fit. I actually thought to myself, It is an adult Boys and Girls Club". A place where people join to network, learn, volunteer, and a place where people share the common goal of a wanting the best for their community. Giving back and volunteering is a priority. It is so great to be surrounded by folks who believe in this concept.
TFRC: What do you find most rewarding about your job at the Boys & Girls Club of Magic Valley?
Lindsey: Wow, just one thing? Everything about seeing a young person thrive, grow and feel empowered is the best feeling in the world. There is nothing like it.
TFRC: Can you play Guitar Hero?
Lindsey: You would prefer that I didn't.
TFRC: Tell us about your family. Even pets count.
Lindsey: I have been married to my husband, Chris, for nine years. Together we share Gauge (stepson, 14) and Skylar (daughter, 7). We have two ivory Labs: Muzzey (9) and Roxy (7). As a family, we love the outdoors. We enjoy skiing, fishing, hunting, camping, hiking and much more! Chris and I spend much of our time watching our kids' many extracurricular activities.
TFRC: Name someone who made you laugh today. Why?
Lindsey: In general, I really try to not take life too seriously. I am often laughing at myself. Today, I sang karaoke with my seven-year-old daughter. Lots of laughs!
TFRC: Have you ever jumped off the cliff at Dierke's Lake? How many times?
Lindsey:Yes, I do believe I was under peer pressure to do it ONCE while in high school. I did not like it. As a matter of fact, I don't even enjoy a high dive in pool.
TFRC: In the little spare time you have out of your week, what do you usually do?
Lindsey: I love to read!
TFRC: What makes the world go 'round?
Lindsey: Relationships. When I think about some defining moments in my life, they were created by relationships. This means the good the bad and the ugly. I believe there is room for all of these in your life and if you play your cards right (or wrong), you can benefit from all of them.
TFRC: Potato chips or goldfish crackers?
Lindsey: Goldfish!
TFRC: Do you think Danny Morena is funny?
Lindsey: Oh yes.
10 Questions Members
Answer