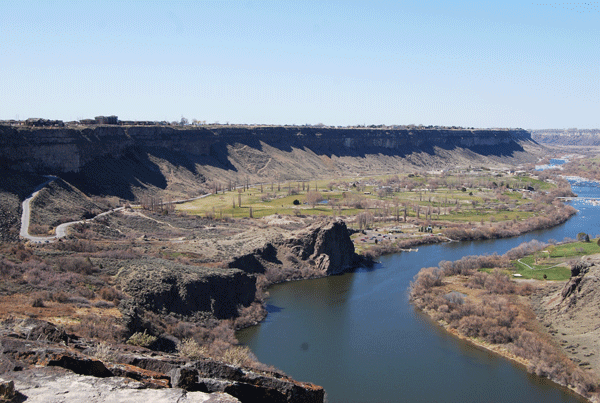 Nancy Taylor
Nancy Taylor - Interviews Nancy Taylor
Nancy: Welcome to Rotary!
Nancy: Thank you! I really want to thank my fellow Rotarians for making me feel so welcome.
Nancy: Tell us a little about yourself. And I mean a little. We don't have all day.
Nancy: I am a native San Diegan, with an 8-year stint in Las Vegas. My career has been focused on marketing and public relations; event planning/catering; and a travel/food/humor columnist for a major daily San Diego newspaper. I have two children, Matthew and Brooke, and five grandsons. Dustin is 20; Cole, 17; Brandon, 15; Carson, 3; and Cash is 9 months. So no one could have a girl? Even my grand dog is a boy.
Nancy: OK. That's enough about that. What brought you to Twin Falls?
Nancy: My son has lived here for ten years, and I visited often. When my husband passed away, I wanted to be near my son, my DIL and my grandsons. My daughter is planning to move to Idaho in the next year or so. I have truly fallen in love with this wonderful community and the people who make it a great place to live!
Nancy: What keeps you busy here in Twin?
Nancy: I am vice-chair of the City's Historic Preservation Commission, and a volunteer at the Visitor's Center. I also busy myself comparing produce prices between Smith's, Albertson's, Winco, and Walmart. I really enjoy watching my neighbors' comings and goings.
Nancy: Why is your hair so short?
Nancy: Well, I bought a set of clippers at Target to save on haircuts. It didn't take me long to realize that clippers and wine don't work well together.
Nancy: What are you passionate about?
Nancy: Besides George Clooney?
Nancy: Yes, Besides George Clooney.
Nancy: Richard Gere.
Nancy: Will you be serious? Jeesh.
Nancy: One of my passions is historic preservation. It is so important that we maintain the integrity of our heritage. In San Diego, I served as president of the Gaslamp Quarter Historical Foundation; a board member of the Downtown San Diego Partnership; and citizen advisor to the Centre City Development Corporation. Twin Falls has a wonderful opportunity ahead of them to shape the future while maintaining our historic legacy.
Nancy: Any hobbies/fun?
Nancy: I cook and bake (very well I might add). I paint...contemporary/pop art. And I play golf. With a vengeance.
Nancy: Any future plans?
Nancy: Yes.
Taylor1.jpg 2014-12-21-15:52:18
Taylor1.jpg 2014-12-21-15:52:18
10 Questions Members
Answer